Reckon One
Online accounting software - perfect for all sorts of businesses
Reckon One Core: The accounting basics
Required for all modules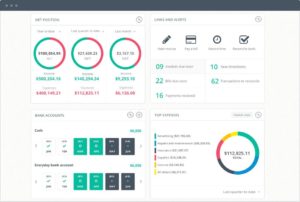 For $5/month monitor income, expenses, cash flow and access real-time reporting. Easily track GST & prepare BAS statements for the end of financial year.
Reckon One Bank Reconciliation
Optional Module
Bank reconciliation is the process of comparing the cash activity in your financial records to the transactions on your bank statement to help identify any mistakes and monitor cash flow.
Once BankData is connected to your bank, your latest banking and credit card transactions flow in automatically, ready for you to reconcile.
It even organises them for you with a system that learns from you over time making it perfect for managing recurring transactions for regular clients and suppliers.
Reckon One Invoices and Billing
Optional Module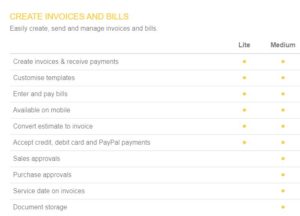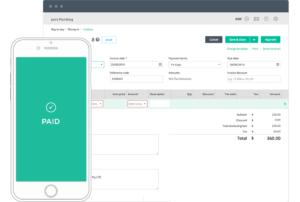 Send invoices from your phone, tablet or computer. Then track payments back to Reckon One, and watch those dollars roll in! Your customers can pay invoices quickly and securely with their MasterCard, Visa, American Express card or their PayPal account.
Recurring invoices takes the work out managing your ongoing invoicing. Set-up the invoice and your preferred schedule to create the invoices automatically whether it is weekly, fortnightly or monthly. It's perfect for your regular customers and saves you time on manual processing!
Create and send an invoice, add a customer or record from anywhere on the mobile app. Simple!
It's the details that matter. Select preset tax codes when creating an invoice to automatically calculate GST and other taxes. Add discounts, and set payment terms on your invoices. Send professional looking invoices in seconds. Add your logo to pre-loaded templates, notes to specify payment instructions, and even personalised messages.
Attach documents to your bill and payment transactions – so all your records are stored and backed up online for easy reference and sharing with your accountant. Stay organised and ensure you have a digital copy of important files for tax time!
Reckon One Payroll
Optional Module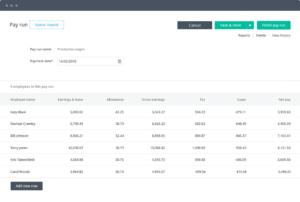 Easily manage wages, leave, super and Single Touch Payroll for an unlimited number of staff for just $5/mth. Unlike other payroll solutions, you won't need to pay by the number of employees you have – saving you money as your business grows.
Simply set up your default settings, enter employee details and hit pay! Group pay items by industry, group of employees, tax rate, and much more.  It's payroll that fits to the way you run your business. You can create a pay run, save it and come back to it at a later time too.
Intuitive navigation, clear workflows and simple data entry means you can easily pay staff. It's also simple to stay up to date with the latest payroll and tax compliance changes with updates such as PAYG tax-tables, superannuation guarantee rates and SuperStream requirements automatically pushed into Reckon One.  Leaving you more time to focus on running your business.
Reckon One will be Single Touch Payroll compliant and ATO certified by 1 July 2018*, so you can meet your STP reporting requirements quickly and easily and breeze through end of financial year. Simply process a pay run as normal, then generate your STP report in Reckon One. Hit send and your STP report will open up in our new ATO gateway called GovConnect STP. Here you review your submission before you lodge, keep track of ATO messages and access past submissions.
Lodge SuperStream compliant file automatically via Ozedi. Reckon have partnered with Ozedi to bring you a seamless super contribution experience. With Reckon One Payroll Lite, you can produce SAFF files to meet SuperStream compliance, or choose the Reckon One Payroll Medium to directly submit super contributions for employees across multiple funds. Once submitted, the payment information is automatically send to Ozedi for their approval in the portal, allowing you to easily manage super contributions.
Reckon One Time & Expenses
Optional Module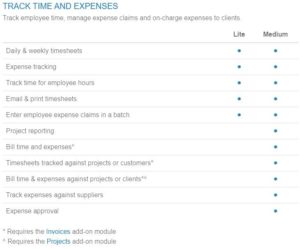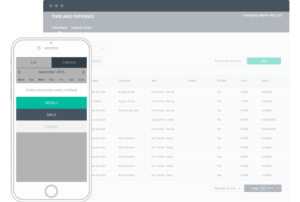 Get it for your whole team. Put your entire team onto our free mobile app. Then pay one low price for unlimited users. An extremely convenient way to bill your time, and to allow your employees to submit their expenses.
Do it all from your mobile phone. Imagine tracking all the time billed by your mobile sales team, then receiving all of their expense claims, as you sit back at head office. Probably on a hammock! Download our app for free. Then pay $3 p/m to add on our Time & Expense module.
Are you sure you're billing all of your expenses? Timesheets & Expenses seamlessly integrates with the Reckon One Invoices module. Easily account for all billable & unbillable hours, and out-of-pocket expenses! Available on the medium version for only $2 per month more. 
Reckon One Projects & Jobs
Optional Module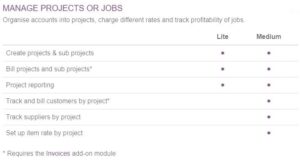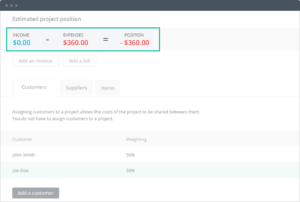 Manage your jobs. Make better strategic decisions. You won't know how you got by without it. 
See each of your jobs profitability in real-time. Create instant profit and loss reports to forecast final costs. Ideal for figuring out the strengths and weaknesses in your business.